A rent roll is a comprehensive list of all the commercial tenants and their corresponding lease information within a property. It is an essential document for real estate investors because it shows them the potential income and expenses associated with a property. This blog post will discuss what a rent roll is and its importance for CRE investors!
A rent roll is a document landlords use to track a property's cash flow. This information helps potential investors and lenders determine the profitability of a property. Rent rolls can also be used by landlords to track rental payments, such as late or missed payments, or to determine how much they should raise rents.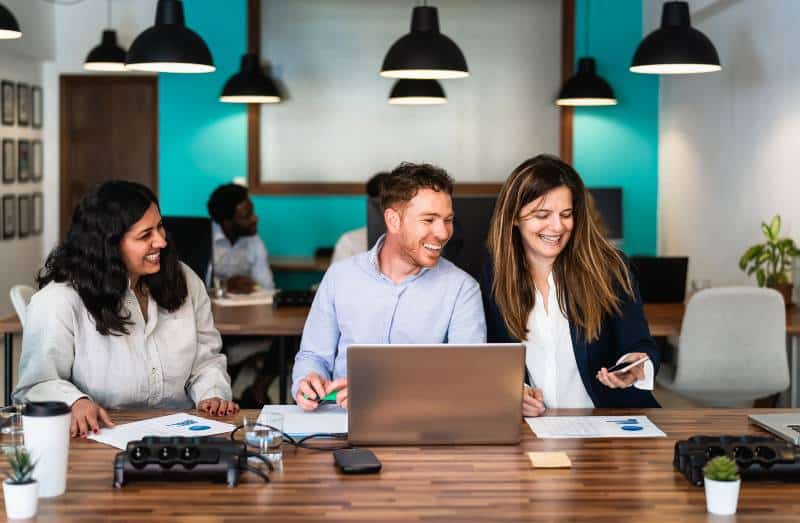 What is a Rent Roll?
A rent roll is a report that provides detailed information about the property, the tenant, and rents. This document is essential for landlords because it shows them the potential income and expenses associated with a property. Landlords can also use a rent roll to track rental payments, such as late or missed payments, or to determine how much they should raise rents.
A rent roll is a report that displays all renters who live in a rental home. It typically includes several crucial details regarding the lease of the current tenant, such as:
Square feet rented
Unit number start date/end date of the lease
Rent or rental income each month
Security deposit
Lease Term Expense reimbursements
What Is the Purpose of a Rent Roll?
Four times faster than incomes, rental property prices are going up. Since so many real estate investing companies take care of more than one building, they needed a quick and easy way to look at data.
The purpose of a rent roll is to show all your rental properties in one place so you can track all your income and expenses. It also helps ensure that tenants are paying rent on time, and it also helps determine which properties are making money for and which ones aren't.
How to Predict Rent Roll Commercial Real Estate
Aside from the property owner, rent rolls are critical in the real estate industry. What if you're asking how? Then know this: it helps you figure out which investments are good and which ones are not.
We will use the example of purchasing an office property with various commercial spaces for rent. Using a rent roll report, you'd be able to dig into the data you already have, such as when and how long each office has been rented, as well as any present tenants that plan to continue renting space from you.
From this, you would be able to better predict your ROI (Return of Investment) and make an informed decision on whether or not the property is worth purchasing.
How Does a Rent Roll Work?
In simple terms, a rent roll is a document or file that contains all of the pertinent information on current and past tenants of a rental property.
This would include data such as:
The names and contact information of each tenant
The start and end date of their lease
The monthly rent amount
Any special notes or clauses in their lease agreement
Creating a rent roll is important for both landlords and tenants. For landlords, it gives them a way to keep track of their rental income and expenses. For tenants, it provides a record of their rental payments that can be used for tax purposes or as proof of residence.
Where Does This Data Come From?
Despite the fact that a rent roll document contains a lot of information, the information on the rent roll is derived from only a few sources:
Assessor of property, land, and zoning taxes in county
Details about MLS listings (if property was purchased from a real estate agent)
An appraisal report provides specific information on a property, such as the number of rooms and their measurements.
for the information on tenants, lease documents and a file
Financial statements for monthly and yearly totals of rental income and expenses
Who Uses Rent Rolls?
Buyers and sellers during due diligence
Any potential buyer or seller may see from a fast glance at the rental income statement whether or not the property has been consistently earning a profit for the owner. It is possible to increase the value of a residence by raising the rent by comparing fair market rent to what the tenant is already paying to the fair market rent.
For example, if rent payments have been steadily going down over time, this could mean that the property isn't being managed well or that the rental market in the area is changing. Both a drop in population and the loss of a large employer can hurt the demand for rental property in a given area.
Buyers can also use the rent roll to do their research and figure out if they want to invest in a rental property. Buyers can tell if the profit and loss statement (P&L) given by the seller is correct by comparing the rent roll to the P&L.
Property managers and landlords
The rent roll alerts property managers and owners to the possibility of a problem with the renter before it gets out of hand. If the manager notices that a tenant is constantly late with rent or other bills, this may be an indication that the tenant is struggling and may need to be helped or evicted.
Real estate investors analyzing potential deals
Use a rent roll to evaluate existing rental income, look for potential upside in the property, and predict future cash flow issues.
An investor can quickly determine if gross income is appropriately recorded on the profit and loss statement by comparing the rent roll to that line. The rent roll will reveal whether or not the tenant is paying a fair market rent after receiving a CMA (comparative market analysis).
Mortgage brokers lenders
Homeowners are often unaware of how their property will be perceived by lenders when applying for a loan or refinance. The use of the rent roll can help predict whether an individual's home equity line is likely to generate profit in future, which may affect both pricing and interest rates on such transactions.
Lenders look at your properties history with rental properties; this includes information like recent turnover times as well!
How is a Rent Roll Useful to a Property Manager?
A rent roll is a helpful tool for a property manager to:
Track when leases are up for renewal
Identify problem tenants
Predict future cash flow
By tracking when leases are up for renewal, the property manager can proactively market the unit to new tenants and avoid vacancy. By identifying problem tenants, the property manager can take steps to address issues before they become bigger problems. And by predicting future cash flow, the property manager can make informed decisions about how to best manage the property.
Example of a Rent Roll
Using spreadsheet software like Microsoft Excel or Google Sheets, it's easy to make a rent roll for a single-family rental: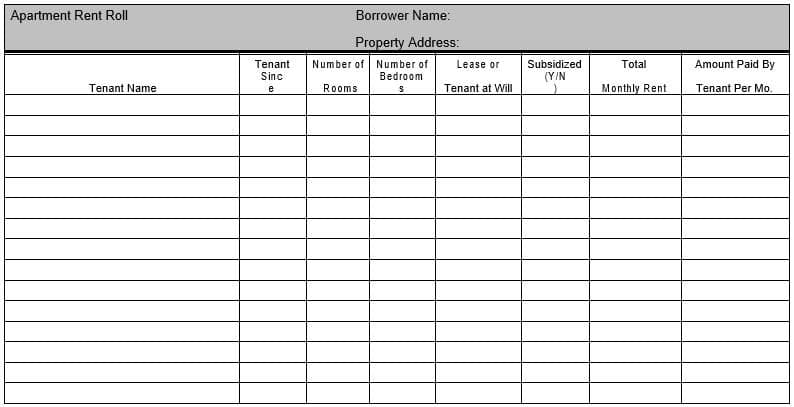 How to Create a Rent Roll
When you're a landlord, one of your most important jobs is to keep track of your tenants' rent payments. This can be a hassle, especially if you have multiple properties. Fortunately, there are several tools available to help you keep track of rent payments and even automate the process.
The first step in creating a rent roll is to collect all of your rental agreements and receipts. If you're short on time, you can use online tenant databases like RentMoola and RentMe to quickly gather information about your tenants' leases, including when they were signed and what the monthly rate is. If you don't have access to these databases, contact your local property management company for help collecting this information.
Additionally, In Excel or Google Sheets, create a new spreadsheet with the following columns:
Property address
Unit number
Tenant name
Move-in date
Lease end date
Rent amount
You can also get free rent roll template here.
Five Ways Anyone Can Use a Rent Roll
Rent roll is a term that many landlords are familiar with, but it has several other uses as well. In the context of real estate investing, the rent roll is a list of tenants and their monthly rental payments. It can also include other information such as the current lease expiration date and whether the tenant pays by check or credit card.
The rent roll is an essential tool for any landlord who wants to run their business efficiently and profitably. Here are five ways anyone can use a rent roll:
Tenant turnover & renewals
This is an important part of property management because it helps you find out which tenants are leaving and whether or not they are renewing their leases with you or not. Additionally, It also gives you an idea about how many tenants will be staying on for another term in your lease.
Rent growth
Rent growth is one of the most important factors in determining how much you can charge for your property. It's also one of the biggest drivers of equity in the case of increasing capital gain.
If you want to find out how much rent you can raise, then look at your rent roll. This is an easy way to get an idea of how much more money you could be making on your property, as well as when and where these increases are coming from.
Rent roll analysis helps you identify opportunities for improving cash flow and increasing profits. You can use this information to help determine what price point will give you the highest return on investment (ROI).
On-time rent collection
The rent roll can be used to collect rent and check on late payments. It can also help you identify delinquent tenants and make sure they pay their rent on time.
There are many reasons why a landlord would want to use a rent roll in his or her business. For example, if you have multiple properties, it's important to keep track of which tenants are renting from you and how much they owe at any given time. If you don't have this information, you could lose out on revenue from those who fail to pay their rent on time.
The best way to use your rent roll is by keeping it up-to-date with current information about all your tenants so that you know when they are due for payment and if they have paid on time or not. This will allow you to contact them if there is an issue with their payment so that it can be resolved as quickly as possible without losing out on money owed by the renter or causing any damage between yourself or the tenant
Late fee income
If you have an existing rental property, there are many ways to use it. One of the best ways is to create a late fee income stream.
The way that this works is you simply charge your tenants late fees if they do not pay on time. You can set up the system so that the late fee is 2-5% of their monthly rent, or whatever amount you choose.
This makes it much harder for people to miss payments without paying large amounts later on down the road when they catch up with their payments again.
Evictions activity
There are many reasons why people become involved in eviction court cases. Some tenants may have fallen behind on their rent, or they might have damaged the property to such an extent that landlords have no choice but to file for an eviction.
Others may have been accused of committing a crime on the premises and need to be removed from the property so that police can conduct their investigation. Whatever the reason, landlords will often use rent rolls to help them win their case against tenants.
Rent Roll FAQs
How do you do a rent roll analysis?
To do a rent roll analysis, you will need to gather data on the current rents being charged for similar properties in the area. You can use this information to compare with your own rental rates and see if there is room for improvement. You can also use this data to predict how much rent you could charge in the future if you make improvements to your property.
What is included on a rent roll?
A rent roll typically includes the tenant's name, address, phone number, and the amount of rent they are paying. It may also include the date the lease was signed and the length of the lease.
Is a rent roll a good investment?
If you a landlord has a lot of tenants, it can be difficult to keep track and manage their rent without an up-to date roll. When there are late fees or tenants who don't pay on time – One way is with the help from Rent Roll!
Conclusion
Rent rolls are handy for property managers because they can predict income, track maintenance and repair costs, and even market the property to potential new tenants.
Creating a rent roll is relatively simple and can be done using various software programs or even a basic spreadsheet. Additionally, understanding how to use a rent roll is essential for anyone involved in the commercial real estate industry, from investors to brokers to property managers.
If you're interested in learning more about rent rolls or need assistance obtaining one for your analysis, please call or schedule a free consultation with me today. I'd be happy to help!